BRITISH & IRISH LIONS TOUCH TOURNAMENT
What: British & Irish Lions Touch Tournament – each team will represent a specified Lions tour team and compete against all the rest. Let's see who will make it to the final! Prizes will be given to the winning team.
When: Sunday 18th June (2-6pm)
Where: PEC Rubber Crumb @Loughborough University (opposite the swimming pool)
Who: It's open to everyone and is completely free, in fact every player will be provided with a FREE food voucher! (Teams require a minimum of 6 people & can be mixed gender)
SIGN UP YOUR TEAM HERE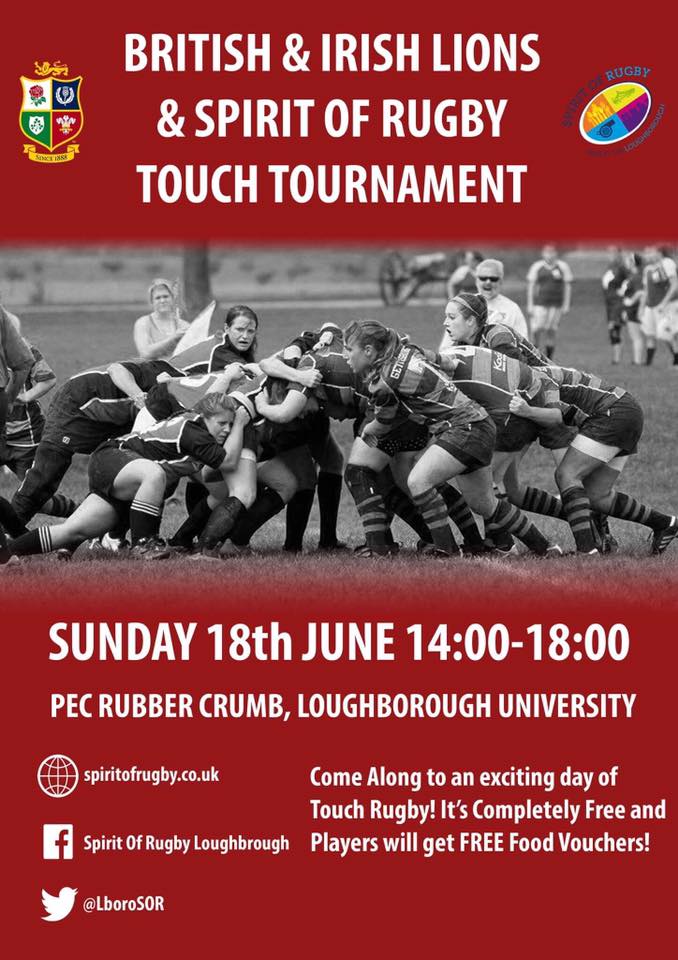 'RUGBY WITH A TWIST'
THIS GIRL CAN WEEK 5TH-11TH JUNE
What: 'Rugby with a Twist' – a fun way to take part in rugby-related activities with your female friends and family! The session is FREE and ALL females are welcome, so come down to try a new sport
When: Wednesday 7th June (18.30-19.30pm) & Friday 9th June (17.00-18.00pm)
Where: Tower's Pitch, Loughborough University, Epinal Way, LE11 3TU
BECOME A YOUNG RUGBY AMBASSADOR
AT SHEPSHED RFC
What: Introduction and Welcome Session
When: Sunday 28th May 2017, 11.00-12.00
Where: Shepshed Youth Centre
 
(Click here for more information)
Watch the RBS 6 Nations live!
What: England Women vs Scotland Women
When: Saturday 11th March 2016, 1.00pm K/O
Where: The Stoop Twickenham
Click here for payment
Loughborough Ladies Pitch Up & Play Day – 19th Feb 2pm start
 Join a fun filled day of rugby here
ENGLAND versus NEW ZEALAND
COMPETITION: Old Mutual Wealth Series 
WHEN: 19th November, 12pm kick-off
WHERE: The Twickenham Stoop
Please click here for payment.
** IMPORTANT NOTICE**
U18s must be accompanied by an adult.
1 adult to 10 children between the ages of 13 and 18 (NSPCC)
Touch Rugby Taster Session
When: Wed, 02 Nov 2016 (18:30 – 19:30)
Where: Hinckley Rugby Club are hosting a Touch Rugby session for people with learning disabilities.
The one-off Touch Rugby taster session is aimed at getting people with learning disabilities into touch rugby.
The free session will be held at 6:30, with the hour containing an insight into touch rugby and chances to improve at and enjoy the game.
To register your interest or for more information, please contact Mark Beeby via the contact details below.
Email: markbeeby@Hotmail.co.uk, Telephone: 07889321858
Watch the Six Nations Live
What: England Women vs Wales Women
When: Saturday 12th March 2016
Where: The Stoop Twickenham
Transport and tickets will be provided for just £10 and you will get a free t-shirt on arrival! The bus will leave from Loughborough University Swimming Pool at 2pm, please arrive 15minutes prior to this departure time.
Don't miss out on this excellent opportunity to watch an international rugby game live in Twickenham! Sign up below. (If under 16 you must be accompanied by a responsible adult).

Please fill out the form to request a sign up:
Loughborough Spirit of Rugby Launch Festival
When and Where: Tuesday 16th Feb, 11am-3pm
Location: Loughborough University Rugby 1st XV pitch
The Spirit Of Rugby Launch Festival is taking place at Loughborough University on Tuesday 16th February 11am-3pm. The festival will feature pitch up and play taster sessions, masterclasses and an exhibition match. There will also be special guests including experts in the field of Sports Photography and  Strength and Conditioning. As well as various competitions and freebies. Come along and find out more about the fantastic opportunities the Spirit of Rugby Project has to offer.
Timeline of the day:
11:15am, 12:15 and 1:15: Welcome Presentation – What is the Loughborough Spirit of Rugby Project?
11:30-12pm: Pitch up and Play Touch – delivered by guest O2 Touch coaches
12:15-12:45: Coaching master class
1-1:30: Exhibition match – come and watch some top level rugby!
1:45-2:15: Kicking Master Class – delivered by Loughborough University's men's first team rugby coach
2.30-3pm: Pitch up and Play Touch – delivered by guest O2 Touch coaches
12pm and 2pm: Tours of world class gym facilities by Loughborough Sport S&C coach
How to Register:
Fill out the form below to register and then registration for the day and information will be located next to the 1st XV Rugby Pitch, which is located in the centre of Loughborough University Campus.
Please fill out the form to register for the festival:
Follow us on twitter and like us on Facebook……